…The state governor participated in the Bilateral Health Meeting with the presidents of Mexico and Cuba
…"A chapter of solidarity with the army of doctors and brothers is being written": LSS
…President Andrés Manuel López Obrador spoke out for hiring more Cuban medical specialists
…"100 percent supply of medicines in Health Centers": AMLO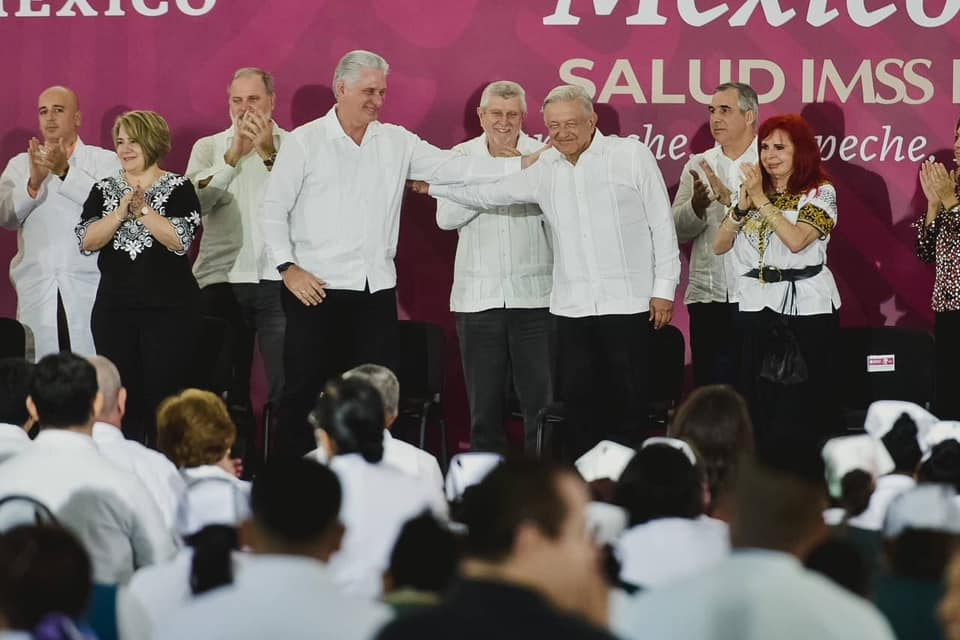 "He is the man (Andrés Manuel López Obrador) who first taught us how to defend the Homeland without bullets; that after scratching the earth for many years, we managed to ascend and scale the top of the mountain, and today from those heights we can say: yes, another world is possible and we hope for another better world for our beloved sister Cuba, today and always,» emphasized the Governor, Layda Sansores San Román.
The participation of the Campechana governor was applauded by the attendees of the Bilateral Mexico-Cuba Salud-IMSS Bienestar meeting, in which it was announced that it has been proposed to continue with the agreement to hire 100 more specialists in comprehensive general medicine, in benefit of the country.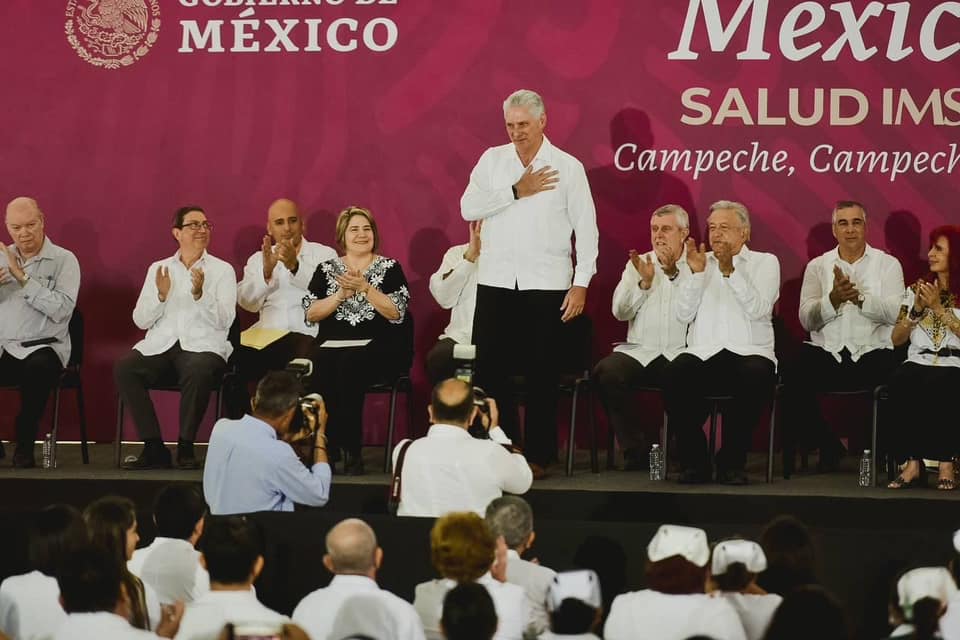 During said meeting held at noon today at the facilities of the Seventh Naval Region, in Lerma, the Governor specified that with this event a chapter of solidarity with the army of generous Cuban doctors and brothers who bring their talent to the entity is being written. , and that the campechanos appreciate your support.
After quoting the Cuban poet and politician José Martí, she stressed that Cuba is deeply supportive. She has great active stamina because her delivery is incredible and unwavering.
"Cuba broke with its chest the mighty waves that an entire empire was pouring over the island and the waves broke and Cuba did not move, because the great island is made of steel, it is deeply supportive, it has a great active resistance, because its dedication it is incredible and unshakable", highlighted the president.
In the same way, she recognized that President López Obrador has instructed to respect and always ensure justice. «With all due respect, Cuba must be respected, they must be shaken hands as they have shown solidarity, and for that is my deep gratitude and emotion.»
Lastly, Ms. Sansores San Román acknowledged that they are the most supportive country internationally and that: "as the president of Cuba, Miguel Díaz, says, "we have nothing left over"; However, they have the luxury of practicing international solidarity, and believe me, they are the country in the world with the most international solidarity, and today we are beneficiaries of their goodness and affection".
For his part, the President of Mexico, Andrés Manuel López Obrador, announced that it will be necessary to hire more specialist doctors and that there are medicines to supply 100 percent of medical centers for this year and next for free.
"It is very likely that we need more specialists from Cuba. I hope they support us with more doctors, more specialists. And we have a commitment; we should have the entire staff roster complete by July, and we can do it if we continue to count on your support," he said.
He assured that all the medicine has been purchased for this 2023 and the next 2024, just as he recalled that in his Government the collection boxes are not necessary in the Health Centers, because the medicines are free, for which reason works in 12 of the 32 states of the Republic.
"We have bought all the medicine for this year and next; that means that the Health Centers will have one hundred percent supply and free of charge. Cash registers are being removed and the right to health is a fundamental human right," he maintained.
He recalled that his administration overcame challenges, such as when medicines could not be bought abroad, because the law did not allow it, «we had to modify the legal framework and fight against the interest of many, and against the media that made us smear campaign Health is a right of all the people, «he said.
In the same way, he revealed that the Federal Government already has about 100 universities open to study medicine and nursing in different parts of the country, and that there are still 55 schools missing. Likewise, he specified that he doubled the number of scholarships for specialists, making a total of 20,000, and anticipated that they will continue to increase.
Finally, he said that Mexico will continue in its demand for the elimination of the trade blockade against Cuba, because that is totally inhumane. "I offer the President of Cuba that Mexico is going to lead a more active movement so that all the countries unite and defend the independence and sovereignty of Cuba; Nothing to treat them as a terrorist country or put them on the blacklist of alleged terrorists, they are a deeply humane people and government, long live the dignified people of Cuba!" he concluded.
On the other hand, the Cuban president, Miguel Díaz-Canel, said that Mexico is an endearing nation and close to Cuba, in the feeling for the history and Latin American identity that they share practically from the origins and thanked that they have always supported them.
"Mexico has historically supported us in the battle to lift the blockade that causes so much damage to our economy and especially to the health sector. To the blow of what we have called creative resistance; We are facing the infamous upsurge. This political criminal who knew no pause or mercy in the most complex moments of the pandemic, "he said.
At the end of his participation, he said, «be sure that you will be able to continue counting on our support and backing from Cuba, where we proudly follow your professional performance and the results you are obtaining every day.»
In her speech, Zoé Robledo Aburto, general director of the Mexican Social Security Institute (IMSS), highlighted that the places where specialist doctors are most needed already have them, since to date there are a total of 610 specialist doctors. , and that just yesterday 61 more arrived to offer their services, their knowledge and their enormous patriotic vocation to serve those who have less.
He recognized that thanks to this signing of agreements and this solidarity between both peoples, today there are stories like that of Dr. Julio Rafael Durán, a surgeon who works at the IMSS-Bienestar Hospital in Escárcega, Campeche.
«This doctor had to perform an emergency caesarean section and he told us that it was a delicate surgery, that he was at that time the only specialist doctor in the entire region and that fortunately everything went well,» he recalled.
To conclude, he said that the proposal for the continuation of this agreement is already on the table. Now to manage to hire 100 more specialists in comprehensive general medicine, a very particular and necessary specialty.
.